I wanted to share a little story with you –
A couple years ago, I came home from a business trip and, as I walked in the front door, the smell of mold hit me like a ton of bricks. As I entered the basement, I discovered the source of the smell. Half of my basement had standing water in it. And, unfortunately, the most affected room happened to be my home office where I do a majority of my work. The carpet was moldy, and my furniture had water damage. I was just lucky that the water wasn't high enough to get to any of my electronics.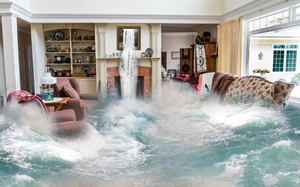 Naturally, I started pulling everything out of the room to see if I could figure out where the water was coming from. The wall that had been covered by my credenza was obviously wet and, when I pulled down some of the sheetrock, to my horror, I discovered mold—not a little mold but a LOT of mold. Since I just happen to write about the dangers of mold, I was more than a little freaked out about the presence of it in my home. The more I removed, the more I discovered.
I thought I would have one leg up on the problem because, after all, I know a little about the home service industry and home service companies.
Fact was, however, I didn't have a clue—and what I thought I knew was dead wrong and could have ended up costing me big in the long run.
The first place I went was to the Internet. Feeling pretty confident in what I knew, I started by looking for companies that specialize in leaky foundations. I looked for the standard hallmarks of a reputable company… number of years in business, satisfaction guarantees, local ownership, and solid reviews.
After doing my homework, I contacted three companies.
The first guy out spent about 15 minutes telling me how great his company is (the typical sales presentation that is often used in the HVAC industry). He then completed a really-thorough inspection that took about five minutes. His recommendation was to apply a liner (moisture barrier) to the exterior walls to block the moisture. When I asked where that moisture was going to go, he then (and only after I asked) suggested that we dig a trench at the base of the wall for the moisture to flow into. He also said, if I wanted, he could install a sump pump (but that it probably was not necessary because the water would eventually evaporate). Total cost $1,800.00 or $3,600.00, if I really wanted that sump pump. So, I asked, "You're not going to do anything to stop the water from coming in? Your only plan is to trap it?" His reply, "Yep, that's how we solve the problems of a leaky foundation." He presented his detailed quote that included the work that would be done and handed me brochures on how moisture barriers work. He then went over the company's 100% Satisfaction Guarantee and left.
Needless to say, I was somewhat relieved because the quote was fairly reasonable and the company did, after all, offer a 100% Satisfaction Guarantee. If they guarantee their work, obviously it should solve the problem—right?
But… I just wasn't feeling comfortable about trapping moisture in my walls. I wanted to solve the problem, not mask it!
On to the next company…
The next salesmen (a team of two) came in, took a look, and said I needed to pull the rest of the sheetrock off so they could look further into where the water was coming in. They offered to have their team come in and do the removal or, if I wanted to do it, they would come back after it was done. Of course, I wasn't going to pay them to do it. I removed all the sheetrock and was very glad I did because I found that there was more than one problem (I'll save you the lengthy details – it's enough to say I had more than one that I needed solved).
When the team from Company #2 came back, they showed me how to determine if there had been water leaking and pointed out where the problems were. They spent a considerable amount of time – about an hour and half – to complete their evaluation (and took the time to educate me along the way) and then went back to the office to work with their team to prepare their estimate. The estimate came in at a whopping $20,000 to dig up the foundation and do the repairs. The process was going to take several weeks, as the crews were already on other jobs. They also warned me that, if I didn't get this addressed, further damage could happen and, eventually, I may have to replace the entire foundation. If they were trying to create fear, they were certainly successful.
Their quote included a thorough list of the work that would be done, a timeline, as well as a copy of their guarantees (which included meeting that timeline). They also invited me to read reviews about their company and to check out their BBB rating.
I trusted what these guys had to say BECAUSE they took the time to educate me and build my trust. BUT… that was a whole lot of money, that I didn't have on hand and I really didn't have weeks to get it all done.
Company #3 came out and, after introducing himself, went right to work inspecting the issue. He took about 20 minutes and said he would like to talk to my husband and asked to schedule a time to come back. I informed him that I would be making the final decision (Gentlemen, more often than not, we women are the ones who are going to make the final decision, so don't start by insulting us). He took out his business card wrote $7,000 on the back of it and handed it to me. So, I asked if he was going to prepare a formal bid and provide me the scope of work he was going to do and if the work would be covered by a Guarantee. His reply, "We have a 100% Satisfaction Guarantee and we don't do formal quotes. This is how I always do it." And, since I asked (he acted like most people don't), he provided me a quick description of what he was going to do. In this case, all the work was going to be done on the inside of the house. They would seal the foundation from the inside. I mentioned Company #2's recommendation, and he stated that all that was extra work that didn't need to be done. What I needed was to stop the water from coming in and that sealing the foundation from the inside would do that.
Ok, so I wasn't impressed at all with his presentation, but what he was saying made some sense and $7,000 was a whole lot better than $20,000. Again, the company had a 100% Satisfaction Guarantee so I'd be covered—right?
So there I sat – three recommendations, three companies providing three very different solutions and three very different quotes, all three covered by 100% Satisfaction Guarantees.
Talk about anxiety.
I didn't know which 'solution' was right. I didn't know which company to trust and I was afraid that I would make the wrong decision and it would cost me more down the road.
Although money is definitely a factor, time is a factor, as well. Most importantly, I wanted it done right the first time so I don't have to deal with this EVER again.
And, that made me think—this is EXACTLY how our customers feel! Although I could talk before about how we 'think' our customers feel – now I really understood, because I had experienced it.
They know they HAVE A PROBLEM and they need a solution.
They are worried about HOW MUCH it's going to COST.
They are busy and they DON'T HAVE TIME to mess around.
They don't know WHO TO TRUST (Guarantees are not enough).
They want the problem SOLVED and they want it fixed right the FIRST TIME.

And, I also realized…
In our traditional marketing and sales presentations, we don't spend enough time addressing our customers FEARS and CONCERNS. If we want to stand out from our competition, we have to up our game. We have to tell our customers why we do the things we do, how we do it different or better than other companies, and—most importantly—why they should care.