Some website designers talk about your website as being the single-most pivotal thing you can do for your contracting business. I'm here to say – that's not true. Websites do play an important role, but they're not the be-all and end-all when it comes to focus. In fact, saying that any one thing is the only thing you need to do right to get even "good" numbers would be an oversimplification of reality. Business doesn't truly work that way.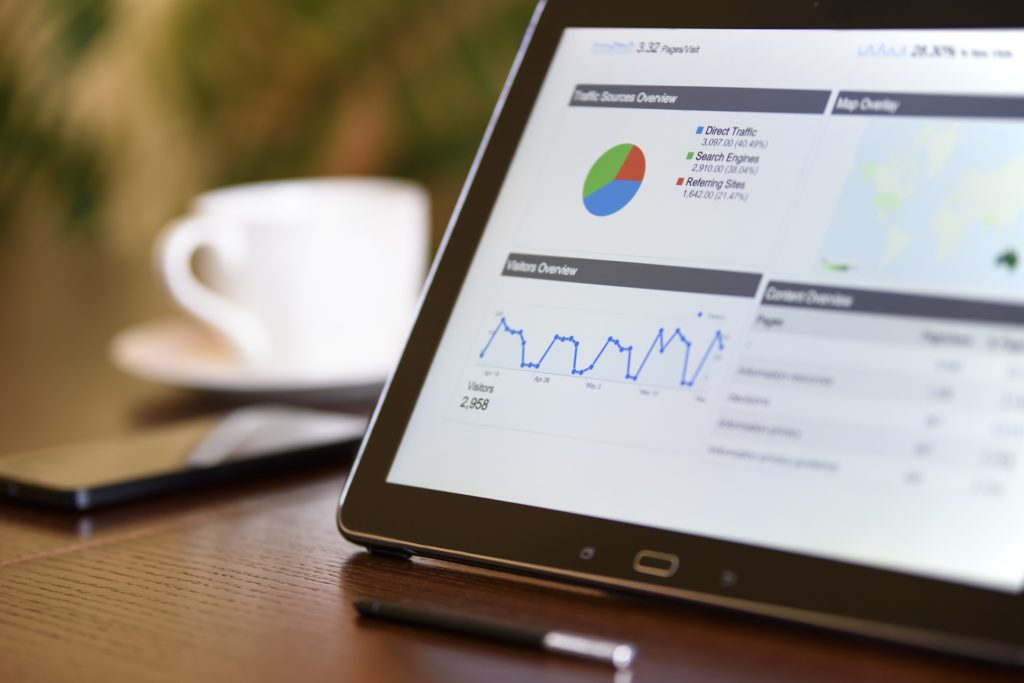 Today, we're going to talk about how Google views your business and how real people view your business through six brand dimensions:
Relevance – Can you fix my problem?
Distance – Are you too far away to be an option?
Prominence – Are you a popular option for this kind of thing?
Expertise – Are you an expert in fixing my problem?
Authority – Are you recognized by organizations in your field as a leader?
Trust – Have others been happy that they've used you previously? Fly-by-night or permanent?
Google's goal has been to reverse-engineer how people make decisions. That applies to everything from "Where should we eat tonight" to "AC repair". Google is trying to quantify how people perceive your brand in the real world. When it comes to search engine optimization (seo), you could have the best seo'd website, but it's all for nothing without real-world brand awareness. To better understand what we're getting at, we have gathered some statistics on how people heard about the contractor they opted to call.
Where have I heard of you?
How many people do you think hear about the contractor they decided to go with online?
15%. That's right folks, about 1-in-7 people. 66% (5-in-8) still first learned about the contractor they needed via word-of-mouth recommendation. All the dimensions we already discussed apply to the real world, not just online! By the way, the remaining 19% was fairly evenly split between some interesting avenues (Yellow Pages [NOT DEAD], Newspaper, Radio, TV, & Post Mail – in that order). The difference between 2017 and 2019 is that Word-of-Mouth, Internet, and Yellow Pages all increased.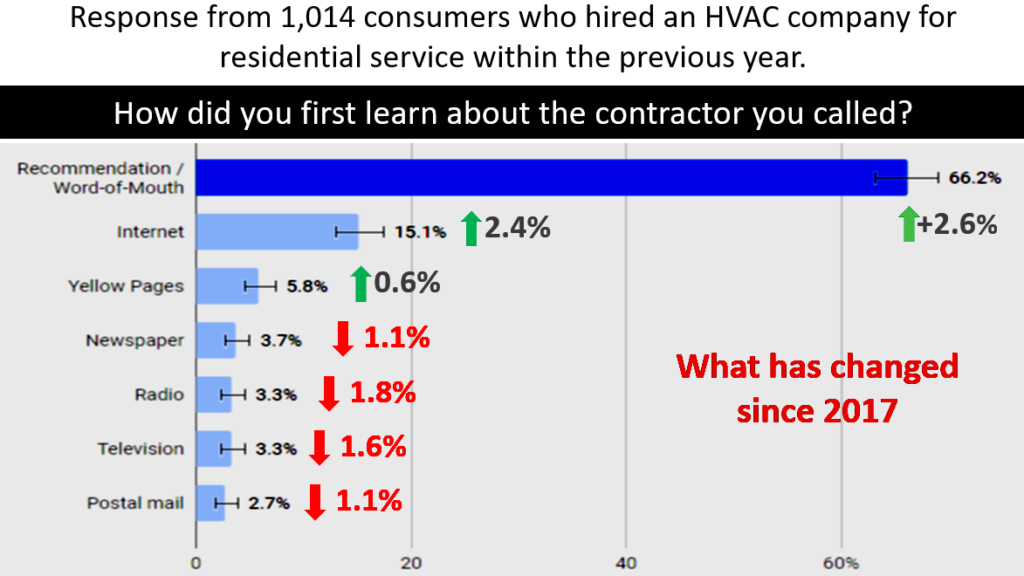 So, while the Internet and your website are important, remember that there's a lot more out there that affects your brand visibility. There is a reason why companies like Coke and Pepsi advertise so much. Everyone already knows about them, but it further instills top-of-mind awareness, which transitions into brand trust. The next time you stop to get something to drink, and are unsure of what to get, you feel that much more comfortable with Coke or Pepsi over an off-brand. This type of advertising is beneficial but isn't the only way, or the best way, to increase brand awareness.
Doing exceptional work and asking for reviews is the best type of marketing – And, our Rocket Reviews and Nearby Now review acquisition programs can help you with that! Actively asking for reviews shows your genuine interest in your client's perception of the service they received – you really care! This kind of interest has shown to lessen any negative perception a client may have had by 50%. So, an 'okay' experience becomes 'good', and a 'good' experience becomes a 'great' one. You get the picture.
Top-of-mind awareness is the key to new customer acquisition. As shown before, most people searching for a contractor have already been influenced in some way, be it word of mouth, brand exposure, or trust in public reviews. At the end of the day, the key to success is getting people to talk about you for good reasons. Our Helping Out Locally program is a fantastic tool to that very end. It impacts far more than just your website – it gets people in your community talking about you in the real world and online. You want to become the company everyone likes, remembers and wants. The real world isn't controlled by Google's attempt to be the gatekeeper for attaining new business. The best way to compete with your competitors (and now, Google, in all actuality) is by being the business the person looks up by name and by having plenty of reviews that support that you're a quality choice!