If you choose to maintain your website's domain name through your own registrar account, be aware it's a job that requires a minimum level of ongoing attention. Your registrar will use the Administrative Contact email address for your domain to communicate with you about your domain. If you fail to receive or act on notifications from your registrar, you are inviting headaches that could have been easily avoided.
The importance of keeping your domain contact information current
When your registrar prompts you to review and, if needed, update the contact information associated with your domain, do it. It takes only a few seconds and is essential to receiving important notifications about your domain.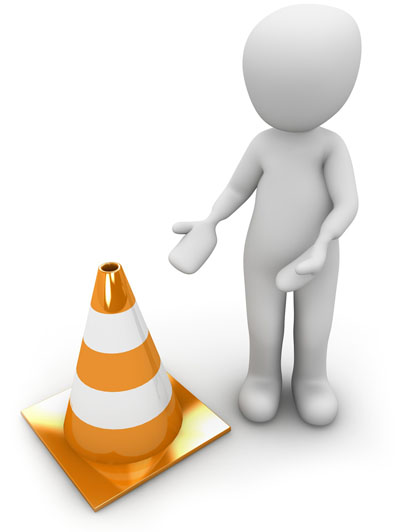 This is especially important since email accounts tend to change over time and, for email, there is no forwarding service like with the postal service. If you use your domain for email, you usually get tipped off that it has expired when your email stops working. If you don't use your domain for email, a costly amount of time may pass before you discover that your domain goes to a parking page and your website has disappeared.
Each year, we see contractors who manage their own domain lose it because emails alerting them to their domain's impending expiration or need to update their credit card go to an obsolete email address. If a domain ends up expiring, registrars typically hold it for 30 days during which the last registrant will have exclusive right to renew it. Renewing it may be done at the standard rate or at a 'hand-slap' premium.
If still not renewed after 30 days, the domain may continue to be held by the registrar and reclaimed only at a painful 'redemption' rate. This is where registrars really cash in on keeping expired domains available for recovery. At some point, which may range from 60 days to a full year, registrars release expired domains to the open market for registration by any interested party. Desirable domains are often picked up by resellers who hold them and market their availability at a premium rate.
Be aware that each registrar has its own policies and rates regarding expired domains; these are just typical scenarios that illustrate the time, hassle and money saved by making sure the emails associated with your name are kept current. Not sure if yours are? Now is a good time to check – click here to do a "WhoIs" lookup of your domain to see the email address for the Admin Contact.*.
It can get worse than just losing your domain…
If your domain has gotten registered by someone else, you may have lost more than just your marketing investment. Visit the domain and you may find the new owner has hijacked your website as well. Spammers and others using the Internet for illicit purposes seek to acquire and benefit from domain names that have a long history and good reputation. It appears that they accomplish this by monitoring domains that are approaching expiration and making a copy of the associated website. If the domain ends up getting released, they grab it and put the site back up. If this happens, you no longer have any access to the domain or the copy of your website and getting the site removed from a hosting server, often in a foreign country, is near impossible.
What looks to be your site, but is not, can affect your reputation and rankings. Existing or potential customers who find and try to communicate through the site will certainly be frustrated by your lack of response. And, putting up a duplicate of your old site at a new address will negatively affect the ranking and visibility of both sites bearing your name—worse, most often Google simply ignores the newer site. You can try and contact the new owner to get your domain back and the website down, but don't expect empathy, or even a response, from someone who stole your website.
What is under your control to do is to find a new domain name and start investing in it. Online, you will definitely need to make some significant changes to the content on your homepage. Then, you will need to search all references to your company on the web that cite your old web address and get those updated to your new one. It can be a time-consuming task. If you subscribe to our SEO services, Online-Access can help get your new address disseminated. Offline, necessary changes may involve updating forms, literature, business cards, and even your trucks if they include your former web address.
Hopefully, you can see what a great investment you are making in taking the few minutes needed to make sure the contact information on record with your registrar is current. Don't just check the contact emails for your domain now, but also any time you abandon using one email address in favor of a new one. You'll be glad you did.
---
Management and renewal of your primary domain is included with your subscription if the domain is moved to Online-Access' management account. Additional domains cost extra. If you have questions or want to pursue transferring your domain(s) to our care, please contact us.

*If Online-Access is managing your domain, the registrar will be listed as CSL Computer Service Langenbach GmbH d/b/a joker.com and you will see domains@online-access.com as the email used for all domain contacts.