If you haven't already 'drank the Kool-Aid' and committed to a remote field-based accounting system, there's a new kid on the block you must see. The company is called Pointman, and their website is PointmanHQ.com. Besides the fact that, like the other systems out there, they have a very robust, QuickBooks-based, field-deployable product, their price point absolutely blew me away—especially for the small contractor. A lot of companies tell you they are about helping their clients grow, but when they told me the system is totally free for small companies with just 1-2 users—that grabbed my attention. Even if your company can't take advantage of their free offer, at three users and above, the $39/user/month price is well below what you typically see.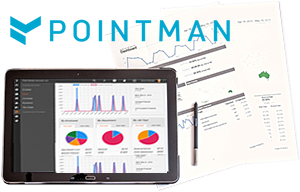 Being the professional skeptic that I am when something sounds too good to be true, I scheduled a full demo of the product to see what they offered. I was extremely impressed. However, since this is the same company that developed the remote version of SuccessWare21, I shouldn't have been surprised. As I went through the demo, it was obvious this wasn't their first rodeo. All the industry field knowledge and experience that went into their SuccessWare21 product was evident as I saw what Pointman could do. But don't take my word for it—go through a demo on your own. –dave
PS: For transparency sake, Online-Access makes nothing from this endorsement …other than I did negotiate real hard to get a large percentage of the monthly price from any contractor who qualifies to use their product for free.